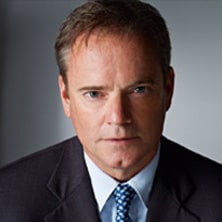 William Hanlon
Download VCard
Phone: 941.253.0254
Fax: 941.932.4454

1111 3rd Ave W Ste 310
Bradenton, Florida 34205
William Hanlon is a results-oriented Bradenton criminal defense attorney whose family history in Florida spans generations. He received a B.S. at the University of Florida in 1988 and a J.D. from the St. Thomas University School of Law in 1993. He was admitted to the Florida Bar in 1994 and founded Hanlon Law shortly thereafter, gaining extensive legal experience in criminal courtrooms throughout Florida. In 1997, he was also admitted to practice in the United States District Court, Middle District of Florida and the United States Court of Appeals for the Eleventh Circuit. He is also a member of the National Criminal Defense College, Trial Practice Institute; the Prosecutor/Public Defender Trial Training Program; the National Association of Criminal Defense Lawyers; the Florida Association of Criminal Defense Lawyers; the Hillsborough County Bar Association; and the American College of Barristers. Mr. Hanlon is dedicated to fighting for the rights of the accused. His firm defends cases involving drug crimes, sex crimes, theft crimes, violent crimes, white collar crimes, domestic violence, child abuse, and college campus crimes in Bradenton and the surrounding cities.
Attorney Hanlon knows that you should never assume that a conviction is assured. He may be able to develop a strong defense strategy for you. Prosecutors have a heavy burden in a criminal courtroom. They need to establish all of the elements of the charges that they are bringing "beyond a reasonable doubt." A criminal defendant is presumed innocent until and unless the prosecutor meets that burden. The prosecutor needs to show not only that you perpetrated the acts that comprise the crime but also that you had the necessary intent to perpetrate the crime. The nature of the intent that needs to be proven depends on the specific charge. Sometimes the only intent that is required is that you be recklessly indifferent to the harmful outcome. However, there are also situations in which the specific outcome needs to have been intended. It is crucial to be represented by an experienced attorney who knows how to raise a reasonable doubt and understands the substantive defenses that might apply in your case.
Many strong defenses hinge on getting evidence suppressed or showing how a different interpretation of the evidence is plausible. Evidence can be suppressed if it was seized in violation of the defendant's constitutional rights. For example, the Fourth Amendment prohibits unreasonable searches and seizures. Most warrantless searches of private premises are illegal under the Fourth Amendment, except when there is a specific, applicable exception, such as consent, a search incident to arrest, exigent circumstances, or evidence being in plain view. The law surrounding the Fourth Amendment search and seizure doctrine and each of the exceptions is relatively complex, however, and a knowledgeable criminal defense attorney may be able to make arguments on your behalf that might not be immediately apparent to you. These arguments often arise in the context of drug crimes, since the admissibility of the drugs is an issue that can make or break the case against a defendant.
In other situations, there may be strong substantive defenses that your attorney can raise. For example, some violent crime charges warrant use of the Stand Your Ground defense. In other cases, we may have an argument for self-defense or defense of others. In still other situations, such as those involving traveling to meet a minor or certain drug trafficking charges, entrapment may be the strongest available defense. There also may be certain facts that make it appropriate to provide substantial assistance to the police in exchange for getting a plea deal and lighter sentence.
Will Hanlon is an experienced and aggressive trial attorney who has been defending the accused in Florida courts since 1994. No matter the type of crime with which you have been charged, and even if it seems relatively minor, you should make sure to get a strong advocate on your side early in the process. Call Hanlon Law at 941.253.0254 or contact us through our online form to start discussing your situation with an attorney.
Education
J.D., St. Thomas University School of Law, 1993
B.S., University of Florida, 1988
Professional & Bar Association Memberships
The Florida Bar
National Criminal Defense College, Trial Practice Institute
Member Since: 1996
Prosecutor/Public Defender Trial Training Program
Member Since: 1995
National Association of Criminal Defense Lawyers
Florida Association of Criminal Defense Lawyers
Hillsborough County Bar Association
American College of Barristers